Single or Double Room Wall-Hanging Display with Plexiglass
Offered as an assembled box, this design comes in two variations: single or double decker! (See below for pricing.) The photos on this page will show you a semi-finished box, both furnished and unfurnished. Click images for larger views.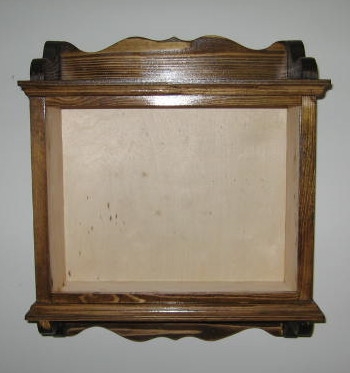 These box, as do all of our designs, come unfinished and assembled. In these shots we show an example of the single room version wearing a dark stain. These boxes are built by experienced, American cabinetmakers, skilled craftsmen who know how to make a straight, square, and true piece of heirloom furniture, ready for stain or paint.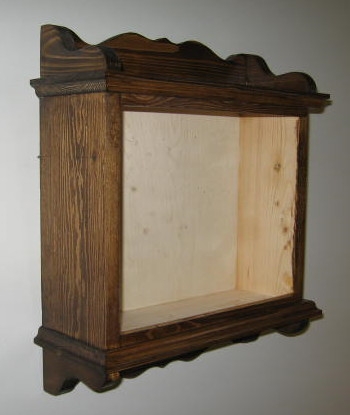 The first step in finishing your new room box is the choice of stain (or paint, if you can stand to cover up that beautiful wood grain.) The example here is done in a walnut stain, but it looks lovely in light stains or just poly. Stain lets the natural beauty of the wood shine through. Using a light color stain enhances the grain. A medium or dark stain, though more challenging to do evenly, results in a very rich finish. Other subtle differences in finish can be obtained by using low or high gloss polyurethane sealers after staining.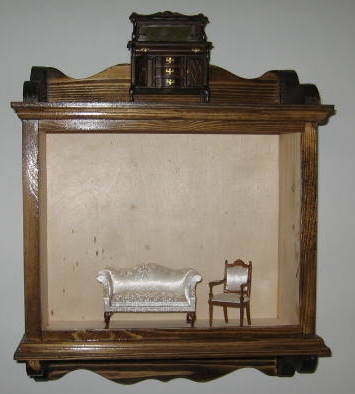 Ample room for your decorations, furnishings and special miniature artwork is provided. With the pretty scrollwork on the cabinet and your handiwork inside, this is sure to become a family heirloom!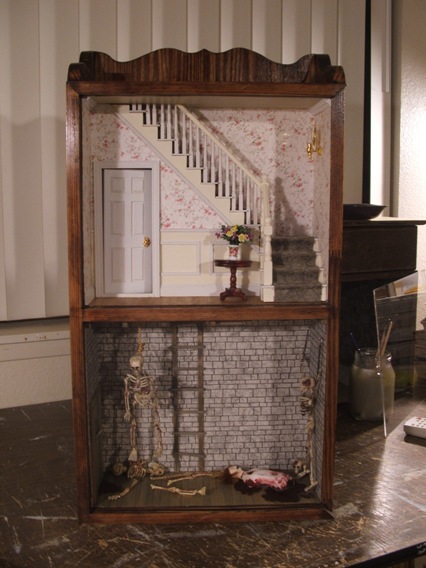 This is an example of the two-room wall unit finished off in an Arsenic and Old Lace kind of theme. The two sections have separate plexiglas fronts. You can read the complete article about the making of this project, including many more pictures, on the My Miniature Menagerie web site.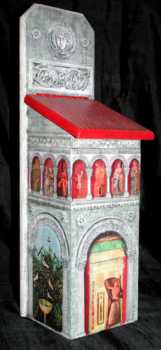 This special wallhanger was finished &ldquot;Pompeii&rdquot;-style by Tess Elliott and was featured on instructables.com recently. This is a simple bag dispenser, or it was before Tess got a hold of it! Check out the instructable and order one below.