Single Room Cabinet on Drawer Base
Offered as an assembled box, this design comes in two variations. (See below for pricing.) The photos on this page will show you the stages and some examples of finished boxes, both furnished and unfurnished. You may also enjoy the builder´s blog. Click images for larger views.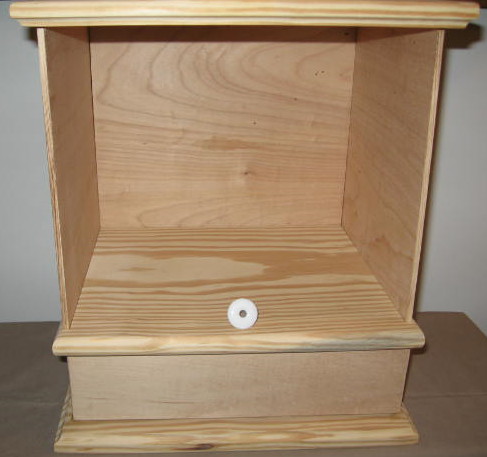 If you order the unfinished, assembled cabinet this is what will come out of the box. These boxes are built by experienced, American cabinetmakers, skilled craftsmen who know how to make a straight, square, and true piece of heirloom furniture, ready for stain or paint.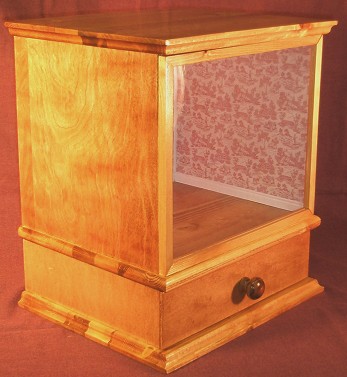 The first step in finishing your new room box is the choice of stain (or paint, if you can stand to cover up that beautiful wood grain.) The example here is just done in three coats of high gloss polyurethane. The natural beauty of the pine and birch shine through. Using a light color stain actually enhances the grains and makes them pop. A medium or dark stain, though more challenging to do evenly, results in a very rich finish. Other subtle differences in finish can be obtained by using low or high gloss polyurethane sealers after staining.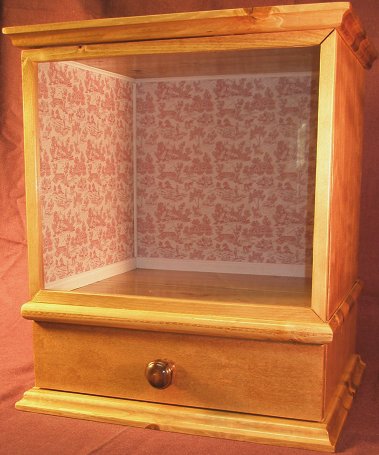 Finishing the interior can go any way you can imagine. We left the floor and ceiling of this room box exposed to enjoy the lovely wood. We went Colonial with the wallpaper and trim, choosing a pale, red toile pattern for the walls and white Colonial trim for the baseboard and crown moldings. Because the cabinets are straight and square, adding wainscot, panelling, and other trim is a breeze. The unit shown here is the 10x12" room, which is great for a bedroom, library, or nursery. The 10x16" room is just right for a livingroom, parlor, or dining room.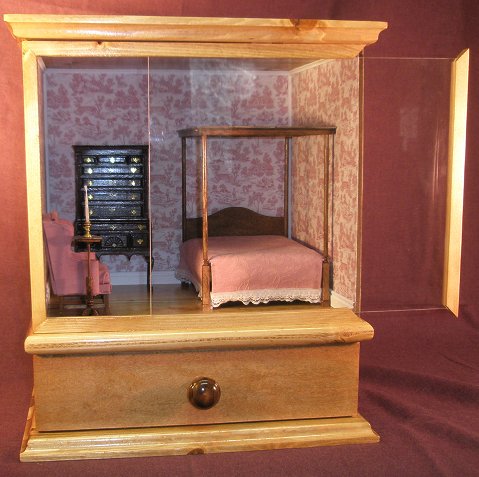 The side-sliding, plexiglass front is going to keep our little bedroom dust free and safe from little hands (or little paws.) The door slides free for ease of access while working or placing furnishings inside. After building this model, we found that the top surface is a great place to display another, small room box, a miniature scene under glass, or other craft or collectible!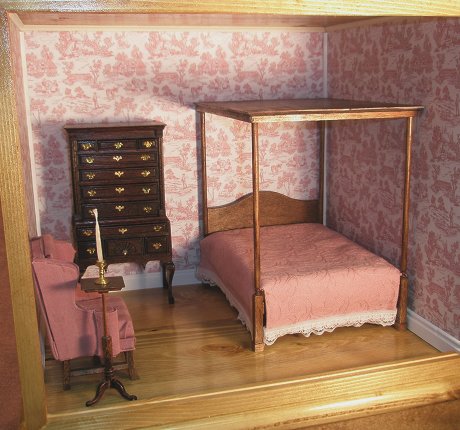 Doesn´t that wood floor look great with the stained wood furniture on it? These cabinets are certainly suitable for displaying your favorite miniatures, from home built to artisan originals. The four pieces of furniture shown here are all The House of Miniatures kits built by our friend "Maine Yankee" just for this display. The highboy features working, brass bale handles from Houseworks on ten of the eleven drawers. The four poster bed features a custom wood valance.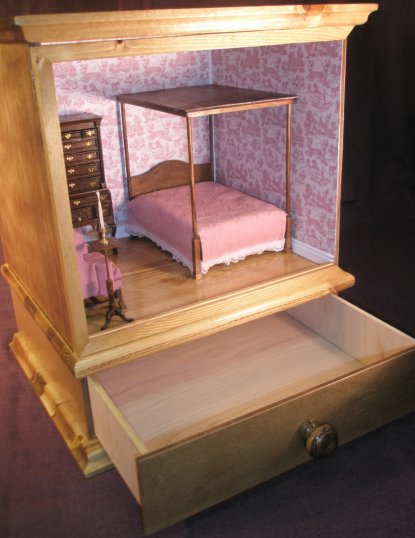 One of the best features of Steve Harvey room box cabinets are the drawers in the base. The drawer is handy for storing furnishings and accessories, or literature about your favorite collectibles. The 100% birch plywood drawers are sturdy and go the full ten inch depth of the cabinet.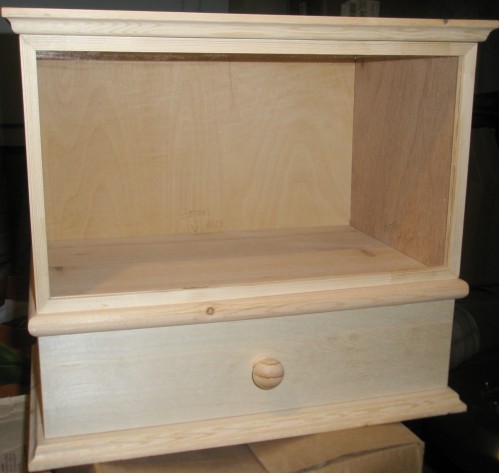 And here is a look at version B of design 1. This is a perfectly proportioned living room or dining room. This model has a 9" ceiling height and a deeper drawer, as well as being wider than version A. This may be the perfect room box for your next project!