Duplex Room Box on Drawer Base
Offered as an assembled box, this design features exterior windows on three sides, plus an arched doorway connecting the two rooms. (See below for pricing.) The photos on this page will show you both the unfinished box and some examples of a finished box, both furnished and unfurnished. You may also enjoy the builder´s blog. Click images for larger views.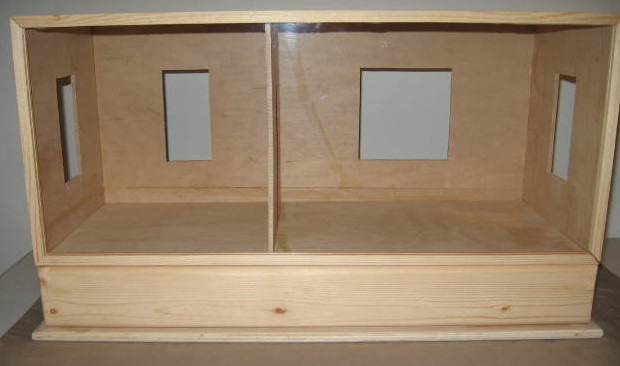 Out of the carefully packed box, the duplex model looks like this. These boxes are built by experienced, American cabinetmakers, skilled craftsmen who know how to make a straight, square, a true piece of heirloom furniture. The birch plywood and pine base and drawer front are ready for paint or stain with nothing more than a light sanding to prepare the surface. Three standard and one double window opening are ready for the addition of your choice of windows.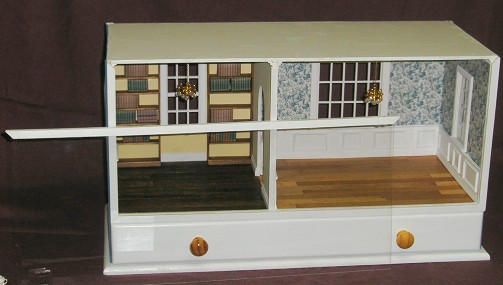 The plexiglass front panel gives free access to the interior for working on wallpaper or for arranging the furnishings. It slides up and removes completely.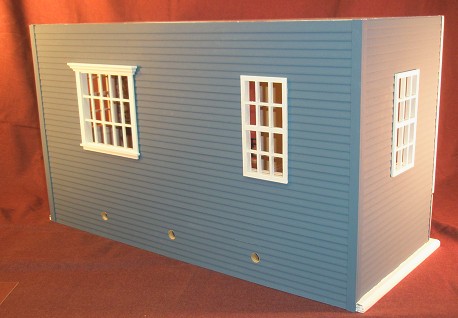 The exterior can be finished with stain or paint, or you can add siding, like the clapboard shown in this example. The window openings are of standard sizes, so the windows that your local miniatures shops or mail order supplier has in stock will pop right in place.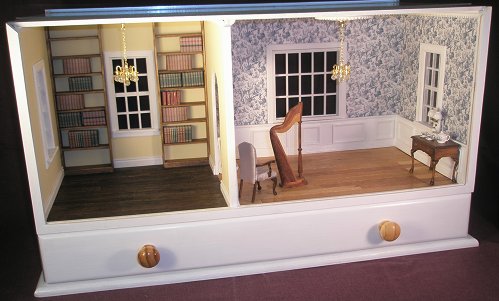 The lower cabinet and drawer look great in paint or stain. The room on the right, measuring 10x14" makes wonderful parlor or dining room, while the 10x10" side room is perfect as a drawing room or library. A more modern idea might be a master bedroom and bath!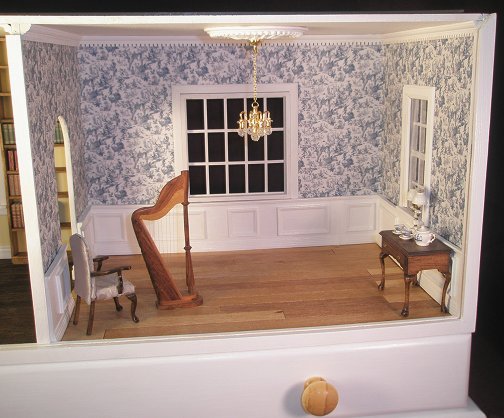 Once you you have added your personal touches for floors, walls and ceiling, this pretty, two-room cabinet will be perfect for displaying your best collectibles. This unit is also suitable for tape wiring if you would like to light your rooms.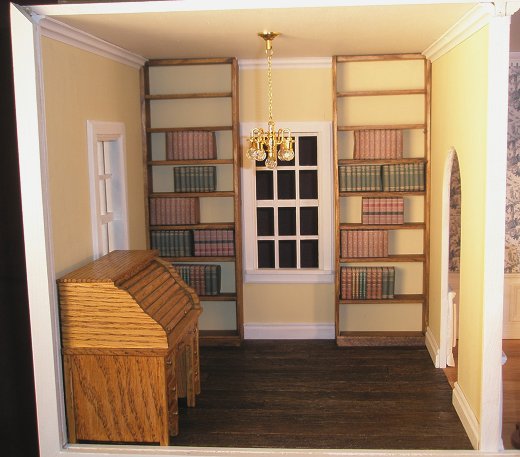 With dark wood floors and floor to ceiling bookshelves, this cozy library is inviting you to come in and browse around for a good read. Our friend Maine Yankee has created an inviting Federal period parlor and study out of this one. What will you do with yours?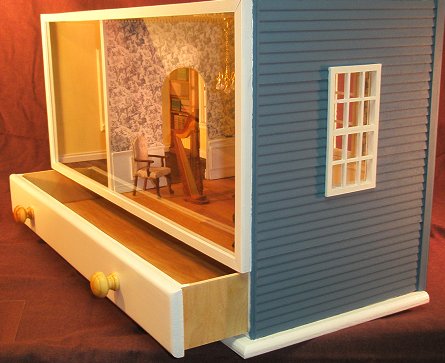 One of the best features of Steve Harvey room box cabinets are the drawers in the base. The drawer is handy for storing furnishings and accessories, or literature about your favorite collectibles. The 100% birch plywood drawers are sturdy and go the full ten inch depth of the cabinet. Also, the top surface of this room box is large and sturdy, so the space could be used as a display shelf.